Have the healthiest smile you can!
Get it by relying on orthodontists' expertise, which comes from their extensive education.  An orthodontist is a dentist who graduated from dental school and was chosen, out of hundreds of applicants, to do a two to three year full-time residency focused entirely on orthodontic treatment at an accredited orthodontic residency program.  Dr Couser graduated #1, Summa Cum Laude, from the University of New York at Buffalo Dental School. He was then accepted to the prestigious orthodontic residency at the University of Illinois at Chicago.
Only after this formal education can one be called an orthodontist.  Only orthodontists are accepted for membership in the American Association of Orthodontists (AAO).  Selecting a member of the AAO for orthodontic care is the public's assurance that they are selecting an orthodontist.
While a general dentist can legally perform any treatment a specialist can, they may not advertise they are a dental specialist.  However, they are not required to inform patients they are not a specialist when doing a specialty procedure like orthodontics either.
With care from an orthodontist, you have an expert who has been educated to understand how your teeth, your jaws and your facial muscles all work together.  A healthy mouth contributes to your overall good health. Your appearance gets a boost, too.
To get the specialized treatment you deserve
You trust your heart to a cardiologist, your skin to a dermatologist, your knees to an orthopedist.  Like these specialists who study their specialty areas after their general medical education, orthodontists devote additional years of study to orthodontics after they graduate from dental school.  And like their medical counterparts, orthodontists limit their practices to their specialty area.  Orthodontists have in-depth experience in orthodontic care.  They use their knowledge and skills to help you get the best results possible.
You may see six crooked front teeth.  The orthodontist sees the cause of crooked teeth in three dimensions. Orthodontists use their education, experience and expertise to delve deep to discover the root of your orthodontic problem.  Armed with a diagnosis that takes all factors into account, orthodontists can plan your solution—one that delivers a healthy, attractive smile and a lasting result.
To recommend the right treatment for you
There are a lot of treatment options these days, from clear aligners to modern braces.  They each have their uses, but only an orthodontist has the specialized knowledge to identify and plan for all the variables in your mouth.  Orthodontists take your unique needs and wishes into consideration, too, when recommending the right treatment option for you.  Orthodontists have knowledge of the full range of orthodontic appliance "tools."  They know what to use and when to use it because they work with these tools every day.
To address the big picture
Sure, you want a dazzling smile.  Your orthodontist wants that for you, too—and treatment results that last. You deserve the best—a good bite and a healthy, beautiful smile.  The first step to achieving this is to contact Couser Orthodontics and schedule a free consultation today.
Become informed
It is important to understand the difference between a general dentist and a specialist.  The great majority of general dentists act responsibly, inform their patients, work within their abilities, and don't mislead the public into thinking they are specialists.  However, that is not always the case.  Be careful not to misunderstand general dentists who say they have done "additional training" in orthodontics, as often this means a weekend course in a hotel or conference center. Potential patients should ask the following questions when seeking specialty treatment like orthodontics:
Are you a dental specialist?

Did you attend a formal and accredited residency?

If so, was it full time? What school?

Do you have a dental specialty license from the state dental board?
Patients and their families deserve the most educated, most experienced practitioner to render treatment correctly the first time.  The public should expect it – they should demand it.  Educating yourself is the key.
What's The Difference Between A Dentist And An Orthodontist?
A dentist is similar to your family doctor — great for check-ups and filling cavities. An orthodontist is a specialist who has two to three years of additional education, and is an expert in straightening your teeth and choosing the treatment option that's best for you.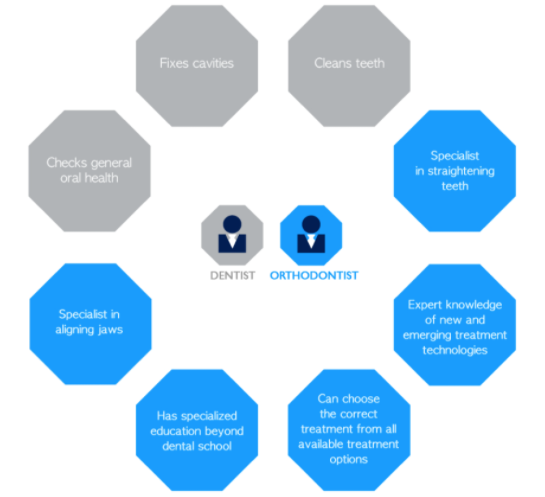 Request A Complimentary Consultation or Call (801) 544-9191